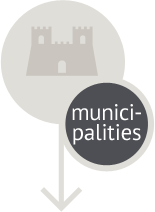 Post a new point of interest
If you want to post your itinerary to us click here
Montecassiano Church of Saint John the Baptist
Church of Saint John the Baptist
It is the oldest part of the Convent of the Poor Clares and was the second parish established in Montecassiano after that of Saint Nicolò. Externally, the church has a rectangular shape with a sloping roof and a double portal, whereas the interior has an octagonal plan with a lobed dome. The decorations of the architectural elements, those of the altars, the cornices on the walls and the dome were made in stucco and include a series of little angels, flowers, shells and volutes. The larger sides are occupied by the counter-façade and by three altars. The walls are articulated by smooth, giant pilasters with varied capitals.
"Giovanni da San Guglielmo" Museum of Sacred Art
Among the works inside the church, there is the altarpiece portraying The Sermon of Saint John the Baptist by Girolamo Buratto or Buratti. The church is the home of the "Giovanni da San Gugliemo" Museum of Sacred Art. The most important works here are silver pieces by Domenico and Antonio Piani from Macerata and two busts of Saint Cassian. The museum also preserves numerous liturgical objects: reliquaries, chalices, crosses, pieces from goldsmith shops in Rome and in the Marche.
Plan your itinerary